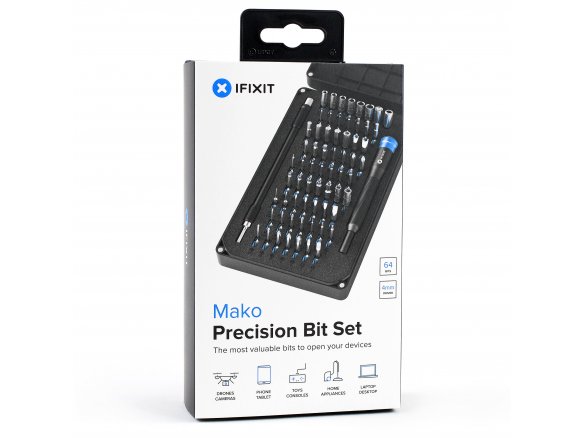 for repairing smartphones, PC or laptop
64 individual, carefully selected 4mm bits
Magnetic aluminium screwdriver
Flexible shaft extension
Inside of the lid serves as sorting bowl for screws and small parts
4 mm to 1/4 inch adapter
Magnetic aluminium screwdriver

4 mm bit holder with ball bearing swivel cap

Flexible shaft extension

length 150 mm

Pentalobe bits

2, 5, 6 (for iPhones,MacBook Air, MacBook Pro)

Slot bits

1, 1.5, 2, 2.5, 3, 4 mm

Phillips bits

#000, #00, #0, #1, #2

JIS bits

J000, J00, J0, J1

Torx bits

T2, T3, T4, T5

Torx security

TR6, TR7, TR8, TR9, TR10, TR15, TR20, TR25 (compatible with normal Torx)

Hex bits

0.7, 0.9, 1.3, 1.5, 2, 2.5, 3, 3.5, 4, 4.5, 5 mm

Square

#1, #2

Triangle

2, 3 mm

Tri-point

Y000, Y00, Y0, Y1

Nut driver (hex)

2.5, 3, 3.5, 4, 5, 5,5 mm

SIM eject tool

0,8 mm

Special bits

Standoff Bit for iPhone, oval Bit, magnetic Pickup Bit

Gamebit

3,8, 4,5 mm

Spanner

6, 8

Adapter

1/4" to 4 mm Driver Adapter
This comprehensive standard set of precision screwdriver bits contains 64 individual and carefull selected 4 mm bits.
The choice of bits was made on the basis of repair data collected from thousands of repair manuals.
This 64 Bit Driver Kit is considered the industry standard by specialists and companies in the repair sector dealing with PCs, laptops, smartphones, play consoles and tablets as well other devices from the realm of entertainment and household electronics.
iFixit Mako Precision 64 bit driver kit, 4 mm shaft, screwdriver, flexible extension