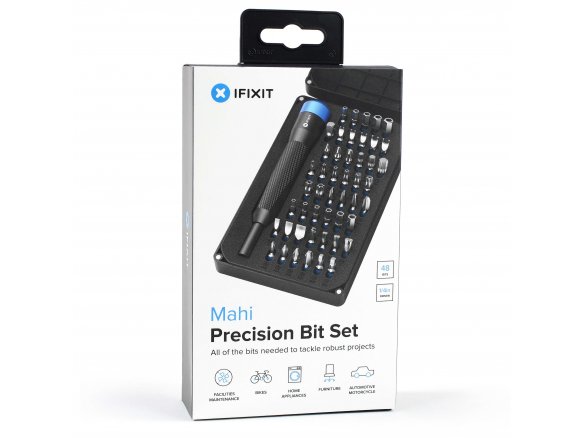 For repairs at home and in the workshop
48 carefully selected 4 mm bits
Magnetic aluminum screwdriver
Lid with integrated sorting tray for small parts
4 mm to 1/4 inch adapter
Aluminum screwdriver

magnetic bit holder, 4 mm with ball bearing rotating cap

Bit material

6150 steel

Phillips

# 0, # 1, # 2, # 3

Tip (flathead)

4, 6, 8 mm

Hexagon security

4, 5, 6, 7, 8 mm

Hexagon security SAE

1/8, 9/64, 5/32, 3/16, 7/32, 1/4

Pozidriv

PZ1, PZ2, PZ3

Vices

4, 6, 8, 10, 12

Square

2, 3

Spline

M5, M6, M8

Torx Security

TR10, TR15, TR20, TR25, TR27, TR30, TR35, TR40

Tri-wing

1, 2, 3, 4

Coupling

1, 2, 3

Special bits

magnetic bit for holding small parts, 1/4 "hexagon on 1/4" square, bit for Schrader valve

Housing

made of ABS plastic, insert made of EVAC foam, magnetic lock
With 48 carefully selected precision bits, you are well-equipped to loosen and tighten even the most complicated connection elements when repairing your electronic devices.
The lid of the housing does not close with hinges susceptible to wear, but with magnetic locks on all four corners, so you can remove it completely and use the inside as a sorting tray for screws and other small parts while working.
iFixit is a wiki-based website that shows you how to fix almost anything. Everyone can create repair instructions for a device here, and everyone can edit and improve existing instructions. The selection of bits in the Mahi Precision Bit Set was compiled by iFixit using thousands of these repair instructions.
iFixit Mahi Precision Bit Set, 48 bits, 4 mm shaft, screwdriver