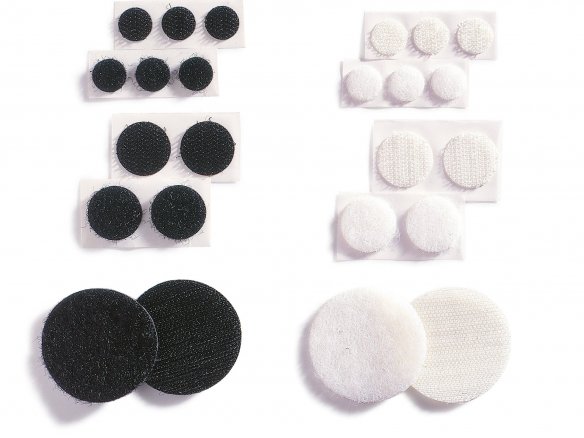 coloured, polyamide, colourless acrylate adhesive
Self-adhesive dots are unbelievably practical aids for affixing objects in desired locations with the knowledge that they can be removed at any time. We could be talking about a pen in the kitchen or an information board in a store or at a trade show.
Attributes: Self-adhesive hook and loop dots will stick to practically all smooth surfaces - not including, it should be noted, the problematical plastic polypropylene. The acrylate adhesive is resistant to many different plasticizers (not to monomer plasticizer!). Despite the fact that the adhesive has good resistance to UV rays, the polyester version (can be ordered on inquiry) should be used if UV exposure is going to be of a long duration.
Applications: The surface upon which the hook and loop dots are to be affixed (at room temperature) by means of applying pressure should be dry, dust-free and grease-free. The maximum adhesive strength is attained after 72 hours and for this reason the dots should not be put under load for as long as possible after application. Any adhesive residue can be removed with warm water or, if necessary warm water mixed with a cleaner.
hook and loop dots, self-adhesive
24 Variants
13,00 mm
19,00 mm
21,00 mm
33,00 mm