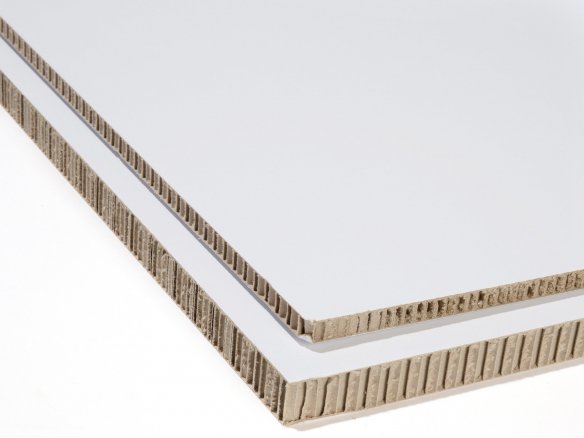 FSC 100% certified
Plastic-free alternative to Kapa graph
Dimensionally stable (can also be stored in a standing position)
Color

white/white

Cover

kraftliner (430 g/m²)

Tolerances

± 2.0 mm (length and width at 750 x 1,000) or ± 0.3 mm (thickness)
Cardboard honeycomb panels consist of two supporting surface layers and a core. This core used to have a structure similar to honeycomb. Today, it is stacked corrugated board - a little more boring, but more resistant to pressure. The structure ensures that the panels have a high degree of flexural rigidity despite their low weight and that the top layers are protected against dents and damage. For example, each square decimeter (10 cm x 10 cm) of a 20 mm thick panel can be loaded with 350 to 400 kg.
Cardboard honeycomb panels are used in the construction of trade fair and exhibition booths, in furniture making, and stage construction. They are also suitable for printing and as a base for painting.
Please note that depending on storage and transport, the plates are usually not 100% flat. To use them with plate printers or similar, for example, the plates should be fixed beforehand.
Honeycomb board, cardboard clad, white
7 Variants
5,00 mm
10,00 mm
20,00 mm
500 mm × 700 mm
700 mm × 1000 mm
750 mm × 1000 mm
1185 mm × 2390 mm
Note
Please note that we can only ship oversized and transportation sensitive goods per forwarding agency which means that there are higher shipping and handling costs.