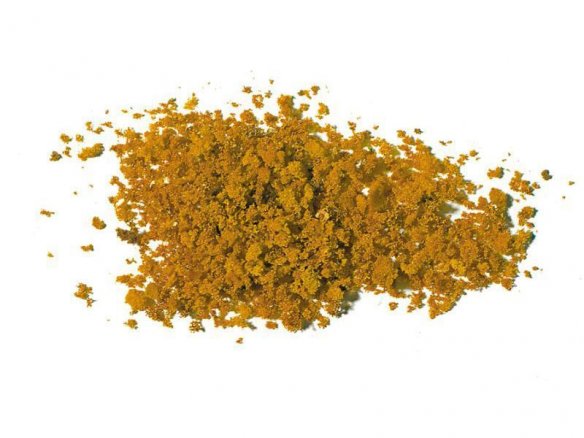 medium size foam flock (ø 1 - 2 mm)
The foliage from trees and bushes as well as other ground vegetation can be simulated with the Heki foliage flock. For instance, beautiful model trees can be created using sea moss (sea foam) as the framework of the tree; this, then, can be partially covered with fleece foliage and finally finsihed off with our foliage flock.
Coating sea moss, Achillea or other tree frameworks is done in the following way: the tree framework should be dipped in, or sprayed with, wood glue and then powdered with flock or, alternatively, rolled around in it. If the original tree framework does not look to be of sufficient size or density to produce an adequate crown, it is possible to add, at the time of the first dipping, pieces of STEEL WOOL to it and then allow this all to dry before proceeding to the second step. PUR foam cut-outs (plant foam) can be used as a carrier for scatter material in the representation of hedges, bushes, or large forests.
The Heki foliage flock is made from synthetic foam and will therefore become statically charged more readily than the latex material used by the GREEN SCENE company. But it is also much less expensive!
Heki foliage flock, coloured
9 Variants
Note
The tone of the litter can vary from delivery to delivery because of the nature of the production process.