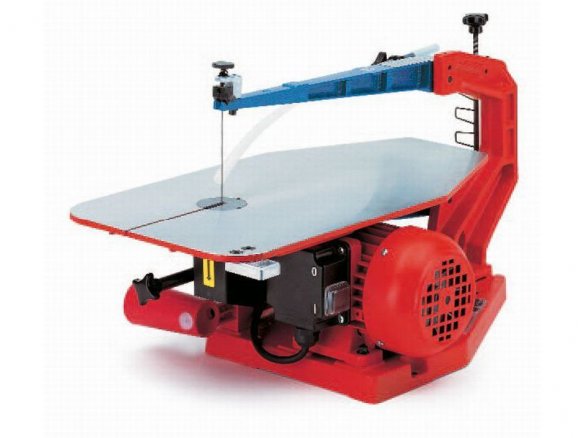 stable cast steel construction, fine machined work table of gravity die-cast aluminium 435 x 230 mm (tilts 45° for scaled mitre cuts), connecting device ø 35 for top and bottom suction removal, light metal - special alloy swing arm (throat size 365 mm) with bearings of high load carrying ability, Hegner saw blade tensioning method, dimensioned quality motor with special fixed roller bearing for continuous duty, 100 W power output, saw dust dispersion blower for clear viewing of the cutting line, adjustable blade tension, standard commercial scroll saw blades (more reasonable price) can be used power supply: 230 V maximum cutting height: 50 mm lengthwise opening: 365 mm strokes per minute: 1400 per minute stroke length: 12 or 18 mm overall size: approx. 520 x 290 mm weight: 16 kg guarantee: 3 years accessories with delivery: a range of quality scroll saws (60) plastic table insert 1 set of operating tools operating instructions
The scroll saws from Hegner are rightly considered to be among the best precision saws in the world. This is the result of top-quality workmanship, a solid design and construction, a high-performance drivetrain and, not least, its made in Germany provenance. With these attributes in mind it should be no surprise that the machines all come with a three year guarantee!
The Multicuts are pleasantly quiet when running; they are made with long term use in mind and you can expect them to be trouble free and maintenance free. The special Hegner saw blade tensioning method - adjustable blade tension, blade can be turned 90 degrees - enables precise, almost polished smooth cuts without breaking the blade even in the case of over-long workpieces. The quick mounting of the blades by means of the quick blade release on the Multicut 2S makes the anyway easy interior cuts that much more comfortable to perform.
A saw with a speed regulator is preferable in cases when you plan to do a lot of fine, precise cutting using ultra-fine blades and a slow feed rate (or at least when you do not have a lot of experience working with scroll saws). In addition, a speed regulator enables the low-speed sawing of steel or other hard materials with a constant torque.
| | | | | |
| --- | --- | --- | --- | --- |
| Material | Soft Wood | Hard Wood | Plastic | NE-Metal |
| Thickness | up to 50 mm | up to 40 mm | up to 15 mm | up to 6 mm |
Maximum thickness that can be cut with the Multicut 1 (as given by the manufacturer)
Hegner scroll saw Multicut-1, incl. accessories