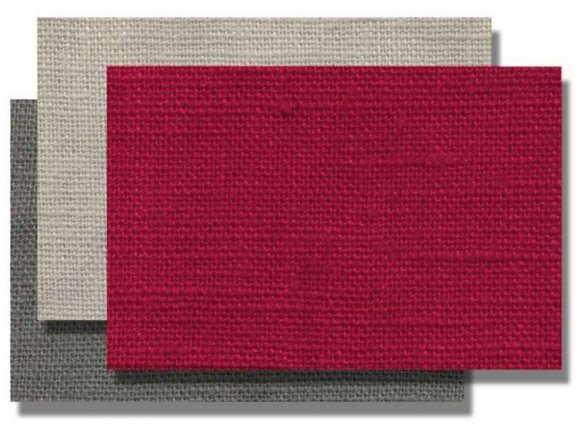 100% linen, 340 g/m², solid colour, tabby (linen) weave, machine washable up to 40 °C, effective width ca. 1390 mm, doubled over
Linen, along with wool and silk, is one of the oldest and most important natural fabrics ever. The base linen fibre is extracted from the stems of the flax plant. The collective term "linen" is still often used generically to describe a class of woven and sometimes even knitted bed, bath, table and kitchen textiles. The name "linens" has been retained because traditionally linen was used for many of these items. The term has also been used in the past to mean lightweight undergarments (shirts, chemises, lingerie - a word that also comes from "linen) because these were historically made of linen. We, however, are only concerned with real linen fabric.
Typical attributes of linen include high shape stability, air permeability and tensile strength. Linen resists pilling, absorbs a great deal of moisture and releases it back into the air quickly, will shrink when washed and tends to wrinkle a great deal. In addition, moths hate it and it is dirt-repellent. The small distinct irregularities in the weave of the fabric and the obvious creases and wrinkles characterize the typical linen appearance. The air permeability, high degree of absorption and release of moisture and the cool feel of this fabric predestined it to being the number one summer textile.
Care tips:
Washing should be done with organic detergent that has no brighteners or bleaching agents.
It can be washed by hand or machine at 40 °C, wash dark colours separately, do not machine dry, iron with a hot setting (200 °C).
Heavy linen, monochrome, (2699)
10 Variants
Note
Minimum order: 0.5 running meter