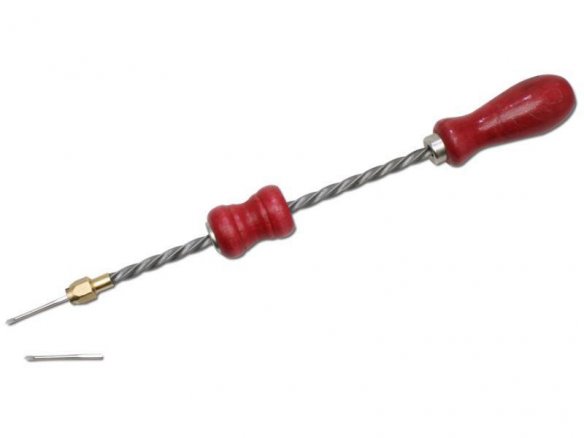 l = 280 mm, threaded rod with metal hexagon chuck, red wooden handle, includes 1 drill with a 2 mm diameter
A hand (Persian) drill is used to make small holes. It consists of a double-threaded spindle rod with a fixed (but rotatable) handle and a second moveable handle. The front end of the rod is fitted with a chuck into which drills can be fixed. When moving the moveable handle the spindle begins to rotate (which in turn – if you will – caused the drill to turn).
This hand drill allows you to make holes that are about 2 mm in diameter; it is therefore often used to make a hole in a plywood panel so that you can thread the blade of a fret saw into it.
Hand (Persian) drill, l = 280 mm (incl. drill bit ø 2 mm)