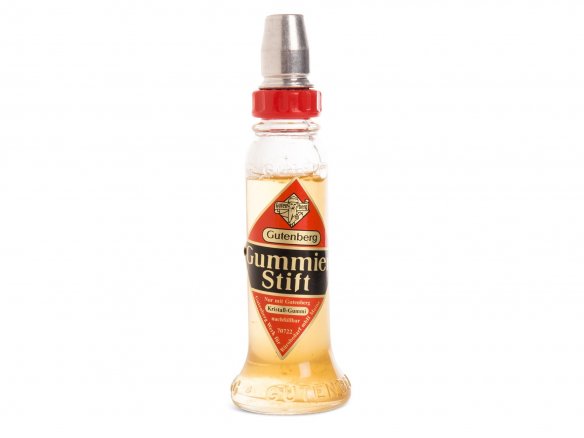 acacia gum, transparent, yellowish, with applicator and aluminium cap
The yellowish rubber in the environmentally friendly Gutenberg glue stick is a viscous natural rubber with good adhesive strength: the so-called gum arabic. The solvent in the beautiful glass bottle is water which makes this adhesive rubber a natural product but also has the disadvantage that paper glued with it will tend to become wavy. This glue stick has an elastic applicator (works great!) for precise or widely spread applications, will not damage even very sensitive paper and has been tried and tested in offices and households for over 50 years.
Because this gum-based glue stick is a product containing only natural ingredients, it can be that after some time has passed it will darken somewhat in the bottle. If this has in fact happened, when it is applied to light paper it can possibly leave behind a light amber or rosé tint. Its adhesive strength will begin to fade after about two years.
Gutenberg rubber glue pen, glass bottle 60 g