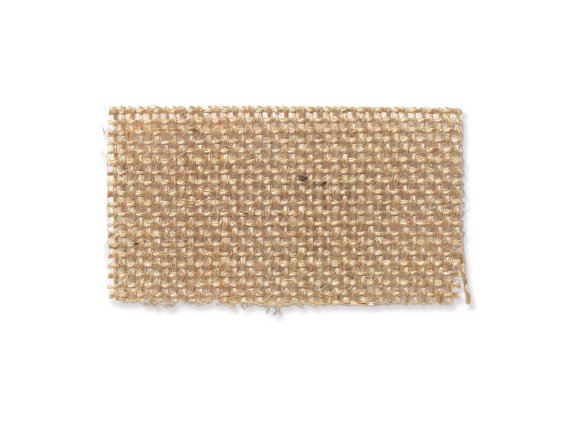 Gunny (burlap) is a very economically priced and relatively tear-proof fabric which is made from the bast fibres of the jute plant and which was primarily used for making sacks until the invention of high-strength PP fibres tended to replace it. Jute comes mainly from the sub-continent (Pakistan, India ...). The gunny that we have on offer is a light-weight version which is most often used for decoration work, for example, as a covering of surface areas.
Gunny is a relatively loose fabric in a linen weave made from unwashed jute yarn. It is also referred to as burlap because it is very often used to make sacks for farm products like grains, rice, coffee beans, etc. When bleached or coloured this very reasonably priced material is also used as a wall covering or in the making of decorations or costumes; unbleached it is used in upholstery and as the backing for rugs.
Jute is a bast fibre which comes from the stems of the corchorus plant which grows mainly in Asia because of the tropical climatic conditions there. It has an elasticity and extensibility comparable to linen but is not very strong because of the high percentage of wood it contains. By virtue of being a natural fibre it is completely bio-degradable.
Gunny (burlap)
4 Variants
Note
Please note that no exchange is possible in the case of products cut from rolls and the minimum order for products sold from rolls is 0.5 running metre.