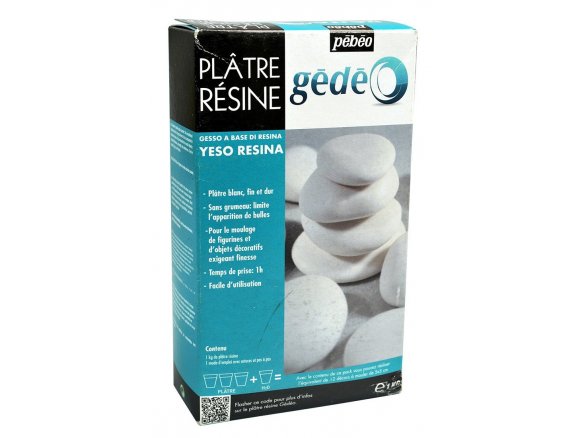 extra hard, high-quality alpha plaster, synthetic resin bonded, bright white, fine grained, non-clumping, mixing ratio of powder to water is 3:1; setting time is 8 – 15 minutes, demoulding time is 30 minutes, can be dyed, for advanced users
Gedeo resin plaster is great for casting shapes that require a high degree of precision, firmness and that look great in white! Its unusual degree of hardness after cured invites comparisons to polyester resins.
This plaster can be imbued with colour by adding dyes to the water before mixing it with the powder. By adding milk to the water your final object can be polished after it has cured so as to produce a marble appearance. By adding TALCUM POWDER when stirring your mixture or by sprinkling talcum powder over a still wet object and then tapping it gently, a smooth, silky appearance can be achieved.
Gedeo resin plaster, 1 kg-package