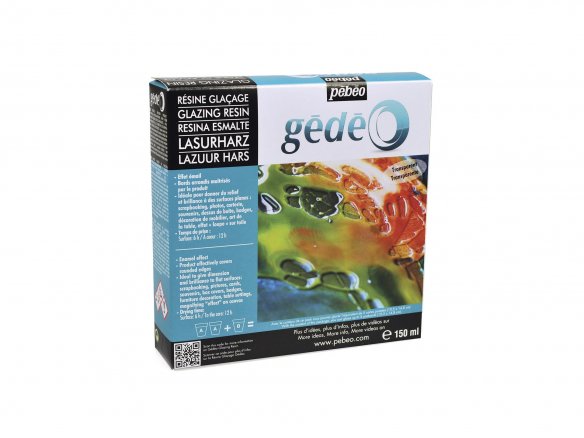 2-component epoxy resin casting material, transparent and colourless, mixing ratio of resin to water is 2:1, curing time: 6 hours for the surface, 12 hours for the core, shelf life when properly stored: minimum of 6 months (both the resin and the hardener), freezing temperatures should be avoided; comes with 1 protective pair of gloves, 2 measuring beakers, 2 stirring spatulas
Description
Hazard warnings
Gedeo glazing resin is a highly transparent casting resin for producing glazing that is about 2 mm thick on even surfaces like postcards, photos, boxes, broshures, furniture or even textiles. The thick coating has a magnifying effect on the motif beneath it and produces beautiful rounded edges.
Processing: The amount necessary for you job can be calculated in this way: length x width x 2 (in millimeters). Start by putting 1 part of hardener B in a clean, dry container, then adding 2 parts of resin A. The two components must be carefully but thoroughly stirred and mixed (note: if the components are not completely mixed together the hardening will be impaired while too aggressive stirring of the mixture will cause bubbles to form). The properly mixed components are then poured into a second container and stirred once again in order to assure a homogenous resin that will be optimally hardened. Starting at the edges, the mixture should be then poured onto your object, which should be lying flat. The very viscous coating will naturally spread out over the entire area. The resin must then be allowed to dry while being protected against dust and dirt for 24 hours until it has completely hardened. When working with Gedeo glazing resin it is important to wear protective gloves and to avoid any contact with your skin or eyes.
Danger, BISPHENOL-A-EPICHLORHYDRINHARZE MIT DURCHSCHNITTLICHEM MOLEKULARGEWICHT <= 700 = 50 <= < 100 %, DÉRIVÉS ÉPOXYDIQUES = 25 <= < 50 %, (VOC-Gehalt = 0,0 %), 3-AMINOMETHYL-3,5,5-TRIMETHYL-CYCL OHEXYLAMIN = 50 <= < 100 %, Reizwirkung auf die Haut, Kategorie 2 (Skin Irrit. 2), Augenreizung, Kategorie 2 (Eye Irrit. 2), Sensibilisierung der Haut, Kategorie 1 (Skin Sens. 1), Chronisch gewässergefährdend, Kategorie 2 (Aquatic Chronic 2), Akuter oraler Toxizität, Kategorie 4 (Acute Tox. 4), Ätz- auf die Haut, Kategorie 1B (Skin Corr. 1B), Chronisch gewässergefährdend, Kategorie 3 (Aquatic Chronic 3)
Hazard warnings
EUH205: Contains epoxy constituents. May produce an allergic reaction.
H315: Causes skin irritation.
H317: May cause an allergic skin reaction.
H319: Causes serious eye irritation.
H411: Toxic to aquatic life with long lasting effects.
H302: Harmful if swallowed.
H314: Causes severe skin burns and eye damage.
H412: Harmful to aquatic life with long lasting effects.
Safety instructions
P101: If medical advice is needed, have product container or label at hand.
P102: Keep out of reach of children.
P261: Avoid breathing dust / fume / gas / mist / vapours / spray.
P272: Contaminated work clothing should not be allowed out of the workplace.
P280: Wear protective gloves / protective clothing / eye protection / face protection.
P321: Specific treatment (see … on this label).
P337+P313: If eye irritation persists: Get medical advice / attention.
P501: Dispose of contents / container to …
P260: Do not breathe dust / fume / gas / mist / vapours / spray.
P301+P330+P331: IF SWALLOWED: Rinse mouth. Do NOT induce vomiting.
P303+P361+P353: IF ON SKIN (or hair): Take off immediately all contaminated clothing. Rinse skin with water [or shower].
P305+P351+P338: IF IN EYES: Rinse cautiously with water for several minutes. Remove contact lenses, if present and easy to do. Continue rinsing.
P310: Immediately call a POISON CENTER / doctor / …
P405: Store locked up.
Downloads
Gedeo glazing resin, 150 ml (100 ml resin, 50 ml hardener)