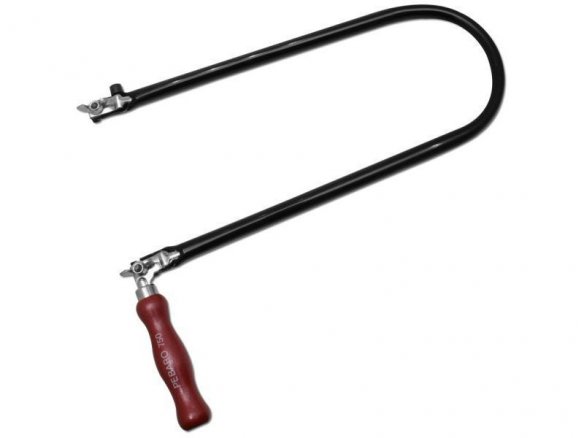 beechwood handle, 13 mm diameter steel rod frame (painted black), spring-loaded chuck, hardened wingnuts
A fret saw – the name comes from the word "fretwork" (interlaced decorative design) and ultimately from the French word "freter" (lattice) – is used for intricate cutting work on thin solid wood pieces as well as plywood (up to about 6 mm) or, alternatively, on thin metal sheet or plastic sheet. It can of course cut in a straight line but is also capable of cutting curves.
A fret saw consists of a U-shaped steel rod frame with a wooden handle. At both ends of the "bow" there are spring clips between which FRET SAW BLADES or SCROLL SAW BLADES can be fitted (these can be ordered separately).
Indispensible aids to help you with your fret saw jobs can be found under FRETSAW ACCESSORIES. These include things like a fret saw spanner (for adjusting the tension of the bow) or a fretwork table and clamp (used to support the work piece on a table). If your required cut cannot be reached from the periphery, you can drill a hole with a DRILL in the appropriate spot and thread the fret saw blade into it and start your cut from there.
Fret saw, cutting depth 320 mm
Note
Does NOT include a blade!