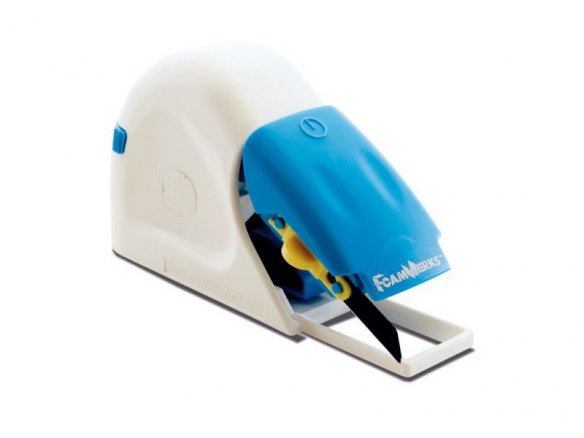 Cutter for exact 90° cuts in sandwich panels with 3 – 10 mm thicknesses, plastic housing with flexible cutting head, adjustable blade depth, on-board blade storage drawer, blade holder with set screw and magnetic blade slot for positioning help, can be used with Logan Adapt-A-Rule straight edge
The FoamWerks straight cutter allows you to make exact 90° cuts in sandwich panels with cover layers (KAPA, FOAMBOARD), polystyrene foam or polystyrene rigid boards with thicknesses up to 10 mm. The cutter, which has a large base, can be used with every type of straight edge; best, however, is the LOGAN ADAPT-A-RULE STRAIGHT EDGE that has a guide groove within which you can engage the straight cutter on both the right and left sides. The depth of the blade can be continuously adjusted to the required level. The right replacement blades, Type WC, can be found under FOAMWERKS REPLACEMENT BLADES.
You should always use a scrap piece of foam board underneath the piece you are cutting. The cutting mats made out of PVC that we usually strongly recommend as cutting underlays are too hard and too dense for use with the sensitive blades in FoamWerks tools.
Foamwerks straight cutter WC-6001, incl. 5 blades WC