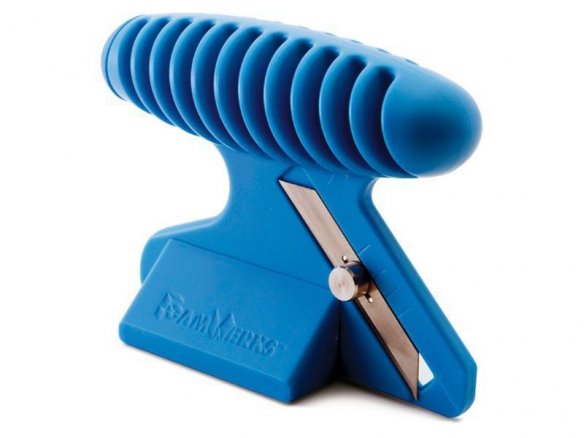 cutter for 90° and 45° cuts in sandwich panels with up to 5 mm thicknesses, plastic housing with adjustable angle, adjustable blade depth, on-board blade storage area
The FoamWerks straight/bevel cutter is a robust and economical tool for making clean cuts in sandwich panels, polystyrene foam and polystyrene rigid boards up to 5 mm thick. The angled base block of the cutter can be quickly and easily rotated in such a way that either the 90° or 45° cutting action can be chosen. The blade and the base block can be easily set for left-handed use as well. Any slip-resistant CUTTING RULER can be used as a cutting guide. The depth of the blade can be continuously adjusted to the required level. The right replacement blades, Type WC, can be found under FOAMWERKS REPLACEMENT BLADES.
You should always use a scrap piece of foam board underneath the piece you are cutting. The cutting mats made out of PVC that we usually strongly recommend as cutting underlays are too hard and too dense for use with the sensitive blades in FoamWerks tools.
Foamwerks straight/bevel cutter WC-6010, incl. 2 blades WC