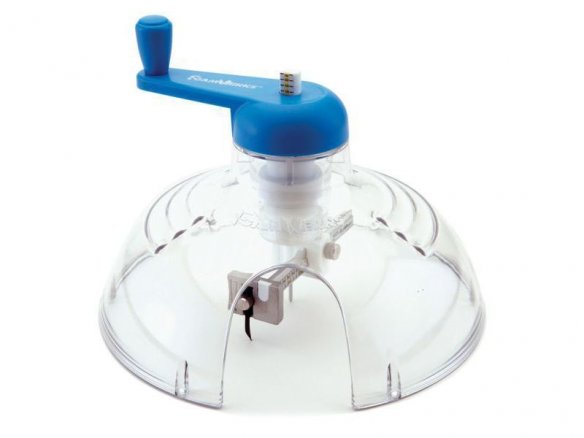 for sandwich panels 3 to 10 mm thick, transparent acrylic dome, plastic handle and crank lever with centre depth indicator knob, metal rail with inch and metric graduations, blade holder with set screw and magnetic blade positioning aid, blades are changeable, centring pin without penetration, for circles with 25 to 152 mm diameters (1 to 6 inches)
The FoamWerks circle cutter effortlessly cuts exact circles with clean edges in sandwich panels with paper cover layers (KAPA, FOAM BOARD), polystyrene foam or polystyrene rigid foam boards.
Before cutting, the middle point of the desired circle should be marked on the board and then the circle cutter, which should already have been adjusted for the desired diameter, then positioned so that the centre pin lies directly over that mark. You then hold the dome in place with one hand and turn the blue crank lever in a clockwise direction with the other hand until you are sure that you have cut all the way through the board. In doing this, the small knob at the top of the cutter serves as an aid in that it drops lower and lower into its housing with each revolution of the crank and thereby shows the approximate depth of the cut. After you have made your cut, the cutting arm with the blade should be returned to its uppermost position by turning the crank counter-clockwise until the depth indicator knob sticks out completely. There is otherwise always the danger that when using this tool the next time the blade that was left in the lowered position will damage the surface of your new sandwich panel when you place the dome on it.
Tip: When cutting circles with diameters under 50 mm, you will achieve better edge quality if you place two pieces of scrap sandwich panel under your work piece so that there is an air space under the area to be cut out.
The right replacement blades, Type WA, can be found under FOAMWERKS REPLACEMENT BLADES.
You should always use a scrap piece of foam board underneath the piece you are cutting. The cutting mats made out of PVC that we usually strongly recommend as cutting underlays are too hard and too dense for use with the sensitive blades in FoamWerks tools.
Foamwerks circle cutter WA-8001, incl. 5 blades WA