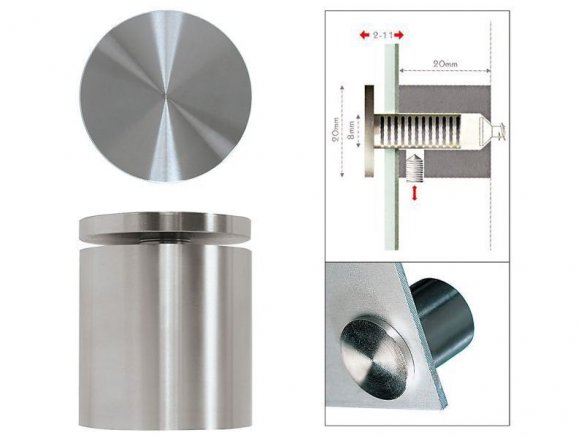 plug system with sideways locking device: distance sleeve and plug head for wall mounting signs with 9 mm drill holes (16 mm for the 50 mm diameter version), made of rust-free stainless steel (AISI304), cut with facets, comes with screws, dowels, glass protective rings and headless screws for security (for quantity see the number of wall fasteners (sleeves)), includes Allen key, given dimensions: d = distance between wall and back side of the sign, th = feasible thickness of the sign
With Fisso steel we provide you with a inelaborate but very high quality stainless steel (AIS1304) mounting system that comes in various sizes and is therefore suitable for large signs as well as small. The surface of the flat, relatively sharp-edged plug heads have been facet cut and this gives any sign an elegant appearance.
In contrast to many other distance sleeves, the ones offered by Fisso are tamper-proof and theft-proof because the fasteners are secured with a headless screw.
The mounting begins with the marking of the holes to be drilled, then comes the drilling itself and screwing the distance sleeve into place. The sign is then placed over the sleeves, the head is plugged through the sign into the fastener and the mount secured with the headless screw. The manufacturer recommends a maximum load of 15 kg per mounting point (30 kg for the 50 mm diameter version).
Fisso steel wall mount
3 Variants
15,00 mm
20,00 mm
25,00 mm