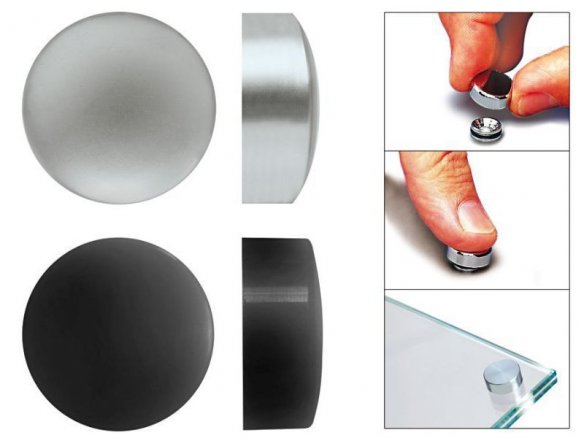 decorative cap that clicks into place and a retaining ring for the cap, used to cover the screw heads on wall mounted signs, the cap is made from different materials (see colour examples), retaining ring made of plastic (plast) or brass (silver, chrome, steel), for screws with countersunk heads (shank ø 4,0 mm), comes with screws and dowels (for quantity see number of screws), given dimensions: th = thickness of the deco cap
Under the name Fisso micro can be found a selection of basic decorative caps that are designed to cover the normally ugly screw heads which tend to detract from the impression of a cleanly mounted sign. When mounting a sign, the retainer ring is placed between the head of the screw and the sign itself (which can be as thick as you want). After that, the cap is simply clicked into place without the need for a tool.
These caps are primarily designed for signs that are mounted directly on the wall but can, however, also be used with the short pieces of tube (e.g. ALUMINIUM ROUND TUBES) that are used to mount signs that extend out from the wall. When mounting a sign with such a separation distance, care should be taken that the screws used are long enough to ensure that they will fill the dowel enough to hold well.
Both mounting methods are equally fast and easy to perform: after marking the hole locations set out by the holes in the sign, they should then be drilled out, a dowel inserted and the sign mounted as described.

Fisso micro deco cap for screw heads
4 Variants