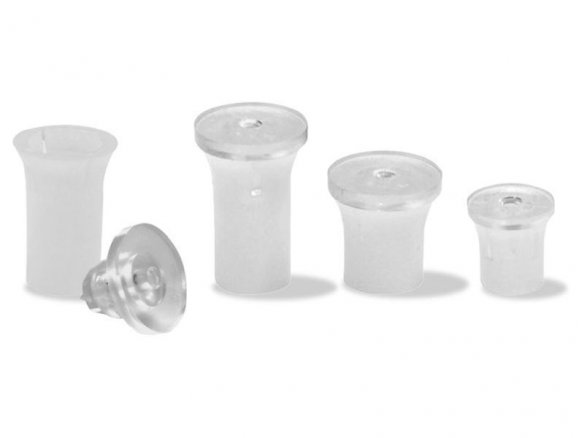 click system: distance piece and nipple that can be clicked into place for mounting smaller objects that have no drill holes (e.g. letters); made of colourless-translucent polycarbonate, comes with screws and dowels (for quantity see number of wall fasteners), given dimensions: d = distance between wall and back side of the sign (object), th = maximum
Fisso klipser is the optimal click system for the simple and fast mounting on flat surfaces of smaller objects which have no drill holes. Letters, for example, can, for outdoor advertising purposes, be mounted with a variable spacing that can be chosen in accordance with the appearances of the individual letters.
In the same process as Fisso ghost, the distance sleeve and the object are clicked together with the Fisso klipser system as well . First, however, the appropriate click-able nipple must be attached to the back side of the object with superglue, silicone or assembly adhesive. Next, the holes should be marked, drilled and dowels inserted, the distance sleeve screwed onto the wall and the already prepared object clicked into place.

Fisso klipser hidden mount
3 Variants