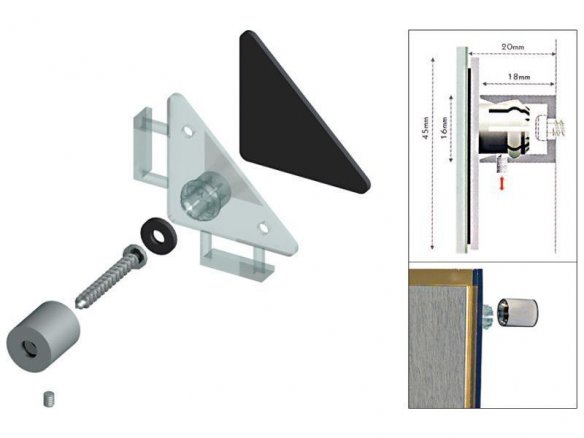 click system: distance sleeve and attachable plug with fit-up aid (centre to edge: 28 mm), designed for wall mounting signs without drill holes, distance sleeve made of nickel-plated brass, attachable mounting piece is made of transparent polycarbonate, comes with shaped pieces made of double-sided adhesive film (VHB quality from 3M), screws, dowels, double-sided adhesive placement rings and headless screws for security (for quantity see the number of wall fasteners), includes Allen key, given dimensions: d = distance between wall and back side of the sign
Fisso ghost is a very practical click system that is hidden when a sign is viewed from the front. It can be used to mount signs that have no drill holes and in cases where it is desirable that the sign extends out from the wall. First, the polycarbonate plug attachment piece should be fixed to the back of the sign. This can be done in three ways: gluing with different kinds of adhesives depending on the composition of the sign (e.g. super glue, double-sided adhesives, silicone, etc.); short screws; or the double-sided adhesive film pieces that are included in the set (VHB quality from 3M!). Please note that the adhesive pads that are included do not attain their maximum adherence strength (from about 150 grams per pad) until they have cured for at least 24 hours. When utilizing other adhesives, be sure to read and follow the relevant product information from the manufacturer. The integrated edge distance brackets are extremely helpful because they enable you to position the plug attachment exactly the same distance from each edge of the sign (about 28 mm).
After serving their positioning function, the brackets are broken off along the grooves where the plastic is weakest. In order not to have to make measurements when marking out the hole positions, the double-sided adhesive marking rings should be loosely glued to the mounting piece, the foil covering the outer portion removed and the sign (with attachment) finally pressed against the wall quickly and firmly. When pulling the sign away again, the marking rings will remain on the wall as guides for the drill hole locations. Then screw the distance sleeves into those holes. These will then serve as the receptacle for the plug on the attachment piece that is mounted on the sign.
What is particularly nice about the little plastic piece is that different signs can be equipped with it and this allows an easy exchange of signs. Therefore we offer it also separately.
Fisso ghost, hidden wall mount
2 Variants