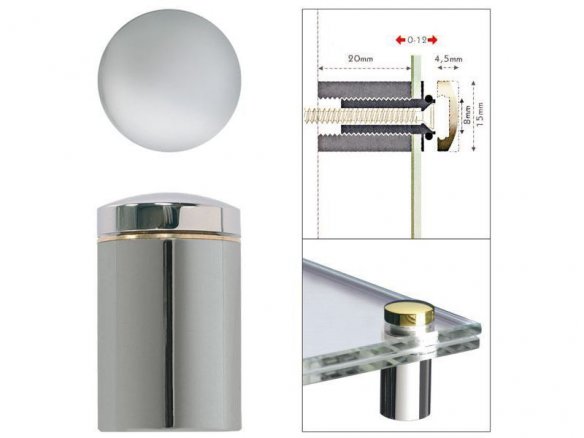 combined screw and click system: distance sleeve, centre piece and deco cap (th = 4.5 mm) designed for wall mounting signs with 9 mm drill holes, distance sleeve made of nickel-plated brass, centre piece is raw brass, deco cap is refined brass, comes with screws and dowels (for quantity see the number of screws), given dimensions: d = distance between wall and back side of the sign, th = feasible thickness of the sign
Fisso budget is a convenient and economical screw and click system by which all mounting work at the designated site can be finished as quickly as possible because, the sign can already be secured between the distance sleeve and the centre piece at the workshop.
Once at the designated site, the holes for drilling are simply marked by sighting through the sign's mounting holes. These are then drilled, the dowel is set and the sign screwed into place. The final step is to click the deco caps into place, which can be done without using any tools. Because the screw has a bit of play in the sleeve, any deviation or inexactness of the holes in the wall can be compensated for (user friendly). The manufacturer recommends a maximum load of 15 kg per mounting point.

Fisso budget wall mount, silver, ø15mm, d=20, th=0-12, 4 pcs (FBUD1520AR)