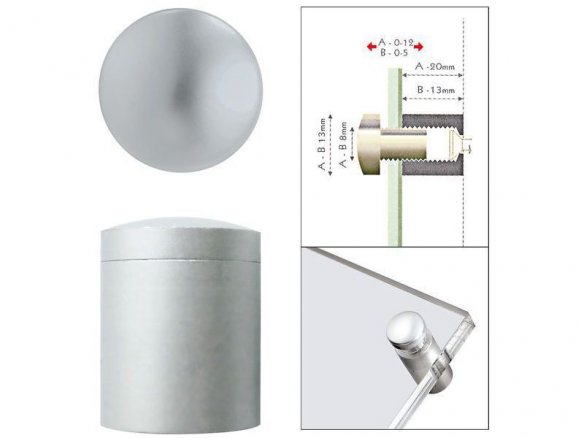 screw system: distance sleeve and screw head with lateral hole for easy screwing designed for wall mounting signs with 9 mm drill holes, made of aluminium, silver anodised, with screws and dowels (for quantity see the number of screws), given dimensions: d = distance between wall and back side of the sign, th = feasible thickness of the sign
Fisso alu is an elegant but simple screw system for mounting signs to walls with a separation distance of either 13 or 20 mm, your choice. Its opposed threading renders the mount tamper-proof while its anodised surface is resistant to dirt and fingerprints.
After marking the hole placements for the sign, they should be drilled out and the distance sleeves screwed onto the wall. Then screw the head through the sign and into the fastener (sleeve). In order to tighten the head completely, there is a hole in its side where a suitable lever can be inserted. Each individual fastener should have a maximum of 15 kg load.
Fisso alu wall mount
2 Variants