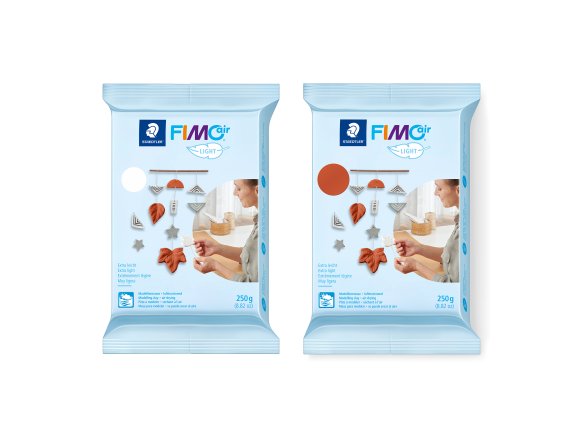 air-drying or microwave-hardening modelling clay
extremely lightweight
dimensionally stable
cured models can be reworked by drilling, gluing, painting and varnishing
Drying time

24 hours in the air and 10 minutes in the microwave

Packaging

air-tight aluminium-PE composite

Weight

250 g
Fimo Air Light Microwave is a ready-to-use, very lightweight water-based modelling material that can be cured in a microwave or in the air and subsequently reworked, as you desire.
When model making or doing particularly delicate work with this clay, tools like WOOD MODELLING TOOLS or A MODELLING KNIFE are very helpful. It is best to employ a sheet of foil as a working base because this will make removing your modelled piece from its substrate that much easier while at the same time keeping your workbench clean. When taking a work break it is necessary to moisten your partially finished model with water and cover it in an airtight manner in order to prevent it from drying out in the interlude. Even when attaching pieces or during any other model making work it is advisable to keep both the surface and your hands wet for the whole time.
It is important to note that if you plan on curing your Fimo Air Microwave model in the microwave, you should NOT employ any extraneous materials like polystyrene foam or chicken wire (for stabilization purposes)!
Fimo Air Microwave must be cured within one hour of the model's completion (in a microwave this will take about 10 minutes at 600 watts for every 100 grams of modelling material). A model that has already dried in the air may not be then cured again in the microwave. You must put a microwave-safe plastic bowl of water in with your model during the curing process in order to assure an even curing result and to avoid any overheating. You should not exceed 20 minutes at a time in the microwave. In the case of larger models you will have to repeat the curing process as needed, making sure to make 5-minute pauses between sessions. If a white coating appears on the surface of your object after the curing (salt), it can be removed with a wet cloth. The salt will, in the case of a terracotta coloured model, affect a natural looking clay appearance if left in place. The resultant model will be dimensionally stable and will have shrunk very little (<5%).
Further work on your piece (drilling, gluing, painting, varnishing) can begin after your piece has completely cured and cooled down. Painting work can be done with HANDICRAFT PAINTS, refining or finishing work with METAL LEAF if you desire.
Fimo modelling clay Air Light 8131
2 Variants
Note
Fimo Air Light Microwave should NOT be cured in a normal oven!