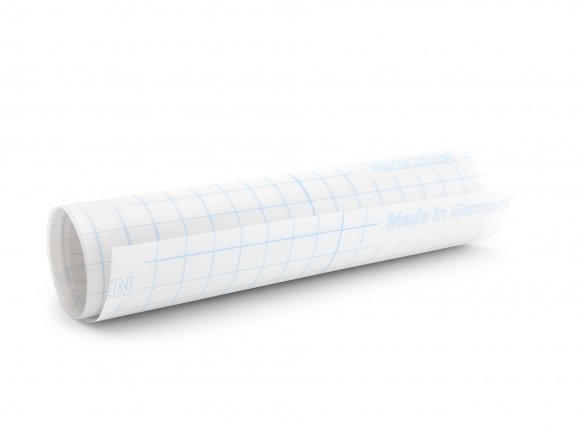 transparent, colourless, matte, rigid-PVC, th = 0.21 mm, solvent and acid free acrylate adhesive; adhesive strength: ca. 10 N/25 upon application and 15 N/25 mm after 24 hours), can be written on, PE film liner (one side is siliconized)
Filmomatt H 200 is a self-adhesive, washable rigid-PVC film that is not intended for use as a cover for books but rather for one or two sided reinforcement of book covers that are made of thin cardboard or for reinforcing free-hanging placards and pictures in indoor areas. Lampshades or lighting objects can be made with this sturdy film with the help of a lamination of your choice. Like all the self-adhesive films from Neschen, this film is coated with pH neutral and non-aging acrylate adhesive that will not bleed through, yellow or become brittle. Objects that are laminated with Filmomatt H 200 should not be rolled up because folds or creases can result.
The film can be worked with at temperatures from -30 degrees to +50 degrees centigrade. Please note that short-term exposure to temperatures over 70 degrees centigrade or continuous heat exposure over 50 degrees centigrade can lead to discolouration of the film.
Filmomatt H 200 rigid-PVC adhesive film, matte, w=1240
Note
The minimum order for products sold from rolls: 0.5 running metre. Please note that no exchange is possible in the case of products cut from rolls and pre-cut pieces.