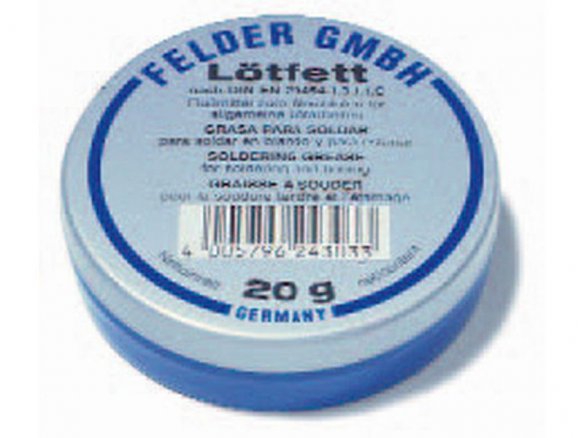 Description
Hazard warnings
Felder solder grease is a mineral grease into which tiny drops of highly concentrated liquid flux (ZnC12 solution in water) have been integrated. Because this flux material not only acts upon the metal but also the subsequently soldered area, any remaining solder residue must be removed.
Danger, Zinkchlorid = < 5 %, (VOC-Gehalt (EU) = 0,0 %), Verursacht schwere Augenschäden, Eye Dam. 1, Verursacht Hautreizungen, Skin Irrit. 2
Hazard warnings
H315: Causes skin irritation.
H318: Causes serious eye damage. (not needed beside H314)
Safety instructions
P101: If medical advice is needed, have product container or label at hand.
P102: Keep out of reach of children.
P103: Read label before use.
P264: Wash … thoroughly after handling.
P280: Wear protective gloves / protective clothing / eye protection / face protection.
P302+P352: IF ON SKIN: Wash with plenty of water / …
P305+P351+P338: IF IN EYES: Rinse cautiously with water for several minutes. Remove contact lenses, if present and easy to do. Continue rinsing.
P310: Immediately call a POISON CENTER / doctor / …
P332+P313: If skin irritation occurs: Get medical advice / attention.
Felder soldering grease, jar, 20 g