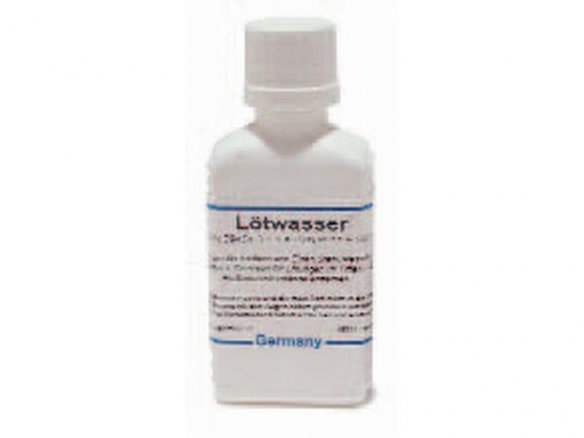 Description
Hazard warnings
Liquid flux, like solder grease, is an aggressive, zinc chloride-based flux material – in this case a ZnC12 solution in water. Because this flux material not only acts upon the metal but also the subsequently soldered area, any remaining flux residue must be removed.
Danger, Zinkchlorid = < 25 %, Ammoniumchlorid = < 10 %, (VOC-Gehalt (EU) = 0,0 %), Verursacht schwere Verätzungen der Haut und schwere Augenschäden, Skin Corr. 1B, Verursacht schwere Augenschäden, Eye Dam. 1, Giftig für Wasserorganismen, mit langfristiger Wirkung; Aquatic Chronic 2, Kann die Atemwege reizen, STOT SE 3
Hazard warnings
H314: Causes severe skin burns and eye damage.
H335: May cause respiratory irritation.
H411: Toxic to aquatic life with long lasting effects.
Safety instructions
P260: Do not breathe dust / fume / gas / mist / vapours / spray.
P303+P361+P353: IF ON SKIN (or hair): Take off immediately all contaminated clothing. Rinse skin with water [or shower].
P305+P351+P338: IF IN EYES: Rinse cautiously with water for several minutes. Remove contact lenses, if present and easy to do. Continue rinsing.
P310: Immediately call a POISON CENTER / doctor / …
P403+P233: Store in a well-ventilated place. Keep container tightly closed.
P405: Store locked up.
P501: Dispose of contents / container to …
Felder liquid flux, PE-bottle with brush insert, 50 ml