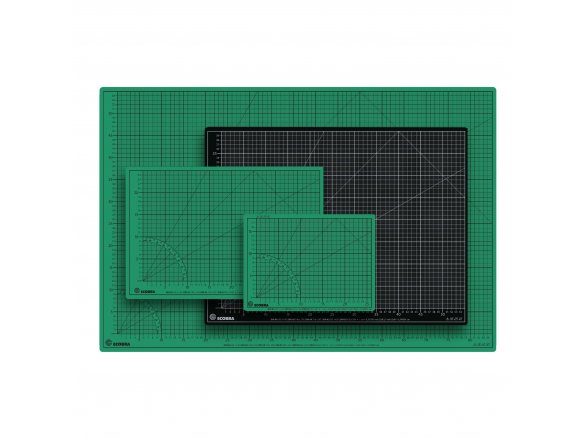 very practical for precision tailoring
usable on both sides
Cutting aid with grid and cm graduation
high quality, provides protection for working surfaces and preserves the sharpness of the blades
Transparency

opaque

Material

Inner layers of rigid PVC, top layers of soft PVC

Material layers

5-ply

Material thickness

3 mm

Features

both sides with grid imprint and cm graduation
These small Ecobra cutting mats are incredibly practical for doing small very precise cutting work. Both sides can be utilized and have centimetre graduation and an imprinted grid. 
Ecobra cutting mat, top quality green/black
4 Variants
220 mm x 300 mm
300 mm x 450 mm
450 mm x 600 mm
600 mm x 900 mm
Note
Please protect the mat from direct sunlight and too much heat in general (from a hot light table) so that it will not warp.