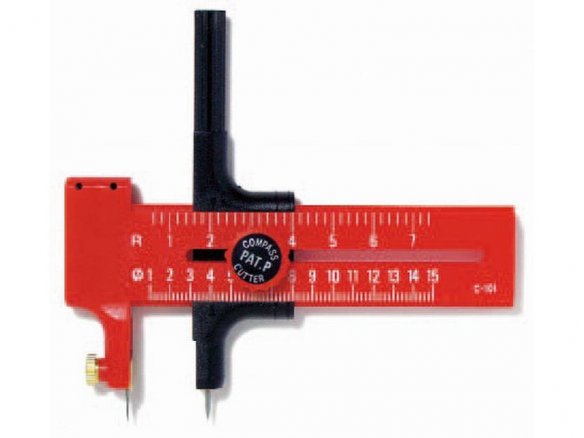 red and black plastic, printed scale for radius and diameter, blade holder, includes protective cap for blade and needle and a slip-proof disc used for avoiding punctures in the middle of a disc cut-out, for circles ø 10 - 150 mm
The compass circle cutter is a simple, functional tool which works on the principle of the compass but it should be noted that, as to quality, it does not even compare to the NT CIRCLE CUTTER. The C-101 cutter is suitable for cutting paper, paperboard (up to about 300 g/m²) and thin foils and films. In order to cut out circles without having a needle hole in the middle, the non-slip disk must be positioned under the needle. If no compass is available when you need one, this cutter can serve as a good substitute.
The CUTTING BLADE FOR COMPASS allows you to turn a standard compass into a circle cutter as long as a hole in the middle of the circle isn´t a problem (only for use on paper or thin films).
Ecobra Compass circle cutter C-101, incl. 7 blades and 2 pencil leads