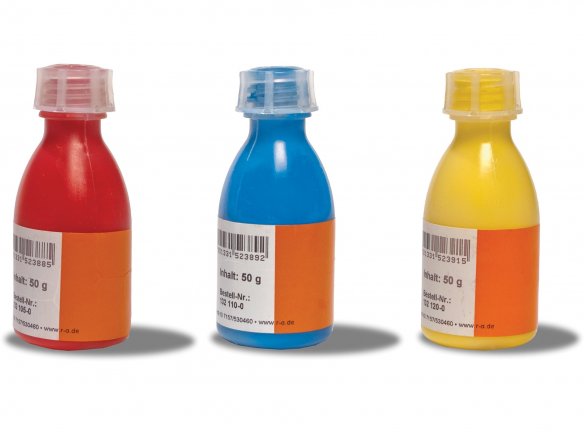 Product description

highly pigmented, intense pigment pastes that can be mixed together

Use

for colouring polyurethane, polyester and epoxy resins

Storing

shelf-life when properly stored: 12 months
These dyes are great for colouring polyurethane, polyester and epoxy resins. They cannot, however, be used with silicone. Transparent resins will remain transparent as long as only a small amount of colouring is added – this is especially true for light colours (with black or grey it is practically impossible to preserve transparency). If a larger amount of colouring is used and/or a supplementary dose of white dye is added, transparent resins will become opaque. As a rule, the dye should be added to one of the two synthetic resin components before those are mixed together. In the case of polyurethane, the dye should not be stirred into the moisture sensitive component that contains the isocyanate. In the case of polyester resins, the dye should be added to the resin component before the hardener has been mixed with it. As a rule, an amount of dye totaling from 3 to 5% of the weight of the resin (after the components are mixed) can be added to the mixture (above 3% the colour will be VERY intense!) without there being any influence on the mechanical properties of the hardened material.
Only pigments that have excellent lightfastness are used when making these dyes. We are not able, however, to make any claims regarding the UV resistance and lightfastness of any object that has been made with resin dyed with this product. It should also be noted that a coat of a UV blocking paint like Marabu UV-Protection spray will improve the lightfastnesss of an object quite a bit.
Dyes for synthetic resins
7 Variants
Note
Adding pigments can effect the pot life (shorten or lengthen). Preliminary tests should therefore definitely be undertaken.