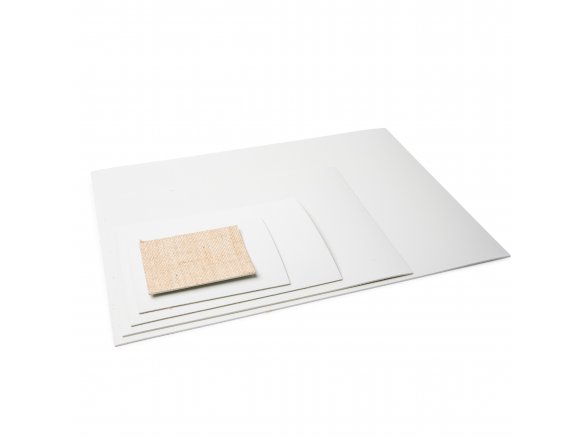 linoleum for linocut purposes, matte, unhardened surface, jute fabric on the underside
This linoleum, which is produced in the last still active German linoleum factory (DLW = Deutsche LinoleumWerk), is manufactured especially for linocut and printing purposes; in short, the usual surface hardening step in the production of linoleum for flooring purposes has been left out. As a result, the cutting tools used on it will not become dull nearly as quickly and the surface keeps the necessary matte finish that is ideal for taking up printing ink.
The first class quality and soft nature of this linoleum makes it much easier to work with, especially making very precise cuts. Please note when storing linoleum sheets that, as a natural product, they will tend to harden with time and become more difficult to work on. Old linoleum that has become hard can be placed on a heater for a few minutes to make it soften up somewhat before cutting work begins. Our vendor assures us that only freshly made linoleum from the latest batch will ever be delivered to us.
Linoleum consists of organic and mineral raw materials (up to 80% renewable) like wood flour, cork flour, linseed oil and jute. It is toxicologically safe; it even satisfies the safety requirements for children's toys.
DLW linoleum sheets
5 Variants
105 mm x 148 mm
148 mm x 210 mm
210 mm x 297 mm
297 mm x 420 mm
420 mm x 594 mm