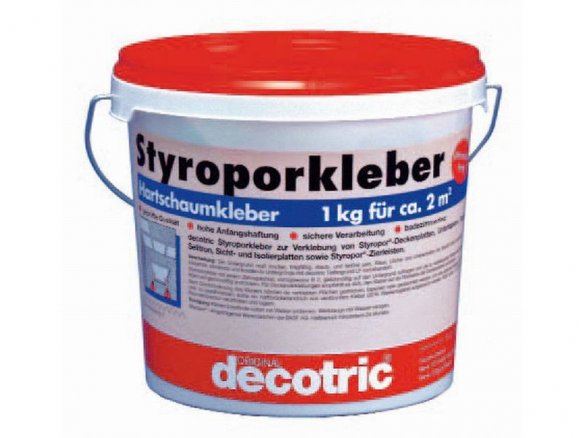 ready to use dispersion adhesive for styroprene sheet insulation, polystyrene rigid foam (Styrofoam, Depron....) and polyurethane foam; styrene acrylate dispersion with filler and thickeners, opaque, white, pH value is approx. 8 - 9, density approx. 1.7 g/cm³, uses approx. 500 g/m²
Decotric polystyrene foam glue is a dispersion adhesive for interior use with which large area décor and insulation panels made of polystyrene foam or polyurethane foam can be glued. Wallpaper underlay like Depron or SELITRON can also be glued with this product.
This glue can be thinned with water and should not be worked with at temperatures under +5 °C. Any adhesive residues or spillover can be immediately removed with water.
Decotric polystyrene foam glue
2 Variants