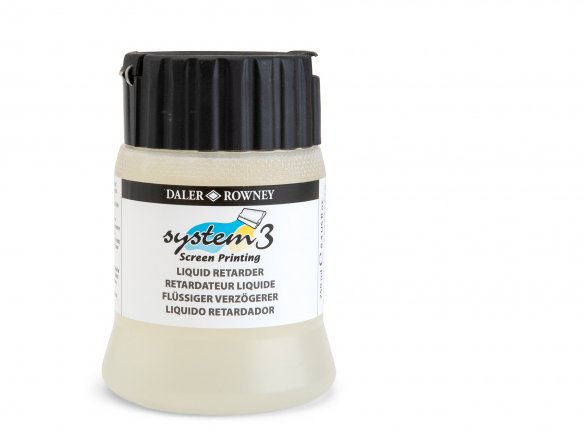 Suitable for

acrylic paints (Daler Rowney System 3) in screen printing

Mixing ratio with screen printing medium

50/50

Mixing ratio with acrylic paint

1:10

Cleaning

clean the screen and accessories with cold, soapy water after use
By using the DALER ROWNEY System 3 drying retarder, you can slow down the drying process of the ink. You can also adjust the viscosity of the paint: Adding retarder will make the paint thinner.
The best time to apply the drying retarder is when you want to make multiple prints with the same stencil in the same color. Applying this aid significantly facilitates the printing because you're able to use the screen for longer. The paint doesn't dry that fast in the fabric of the screen printing frames, so you don't have to wash the screen as often.
Daler-Rowney screen printing medium for System 3, screen print retarder, plastic can, 250 ml