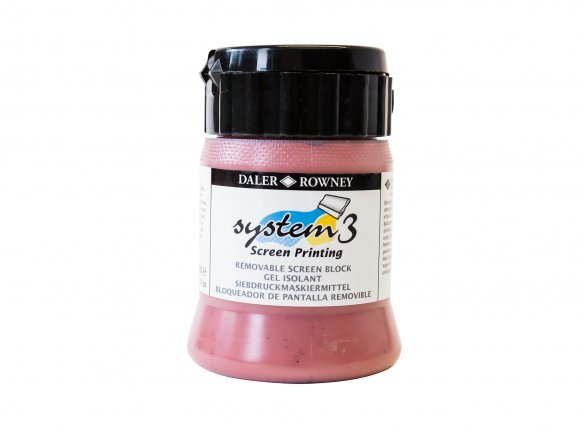 Make screen prints without exposure
Drying time

At least one hour

Optimal storage temperature

25° C
This masking agent is part of Daler Rowney's System 3 and is a vital element for screen printing with this system. It serves as a coating agent for the screen after you apply the design that you wish to print to the screen with drawing fluid. When the drawing fluid is dry (at least one hour in a warm room), apply the masking agent with the rubber squeegee by dragging it over the drawing on the screen. Once the coat is dry (at least one hour in a warm room), you can rinse the drawing with cold water. The dried masking agent will remain intact and form your stencil. Afterward, the screen is ready for printing.
The masking agent should be stored upright at a room temperature of 25° C.
The water-based screen printing System 3 offers the opportunity to produce screen prints with your own references with relatively simple means and no aggressive chemicals or exposure to a photochemical coating. With System 3, you work with low-odor ink that can be diluted with water. All the components are suitable for use in schools, studios, or homes. To get an overview of how the Daler Rowney System 3 works, please read through the attached PDF (DOWNLOADS).
Daler-Rowney screen printing medium for System 3, screen print masking agent, plastic can, 250 ml