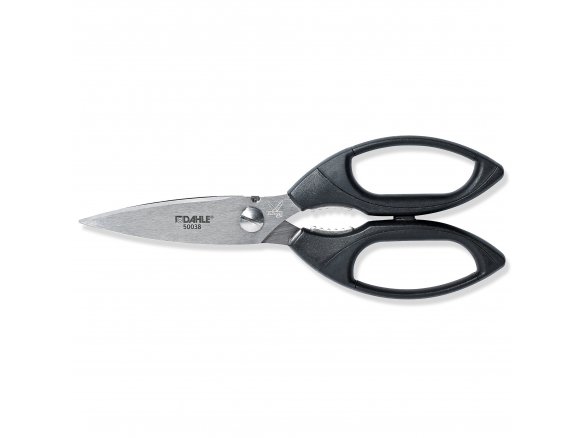 Micro-tooth cut
Precision-ground cutting blades
Blade with 54 Rockwell, hardened, stainless steel
Dishwasher safe
Regrindable
Adjustable cutting blades
Blade material

stainless steel, hardened

Handle material

ABS plastic, impact resistant and colourfast

Versions

for righthanders

Cutting blades connection

screw joint with nylon retainer

Packaging

blister pack
The "Professional" series from Dahle is designed to satisfy the highest demand for a perfect and consistent cutting result. Precisely ground cutting blades produce very exact cuts.
The centre screw has a nylon washer that makes any readjustment of the blades extremely easy, which means that the blades will always cut along their entire length if you are vigilant. When needed, the Dahle Professional blades can be taken apart and re-ground (sharpened), which of course increases their service life and assures that you will never lose the joy that comes from cutting with a great tool!
The "Professional Multipurpose" model is distinguished by the special sharpening grind of the blades and its short and powerful structure. The practical micro teeth serration on the blades reliably grips the material being cut and provides a good transmission of power and cutting performance even in the case of problematic materials. This means that the Multipurpose scissors can be used to cut thin metal sheet, wires, flowers and much more. One practical little feature that has been added is the bottle cap opener that is integrated into the handle.
Dahle Professional Multipurpose scissors, 8'' (215 mm), Nr. 50038