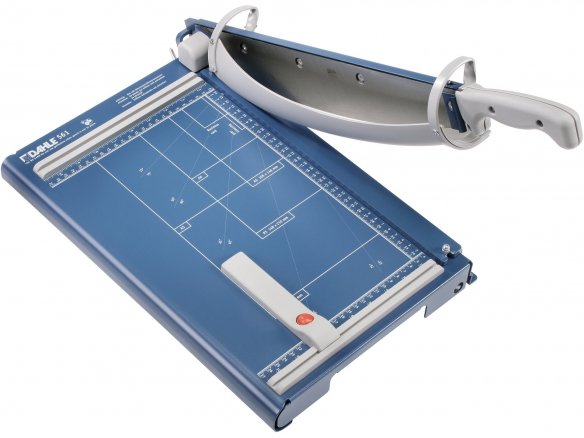 blue sheet steel worktop with beveled edges and imprinted DIN format guide and mm graduation, ground circular and bottom blade, automatic paper clamp, aluminium lay edge on the base with plastic adjustable backstop, Dahle security system (rotary guard covers blade throughout use), maximum cutting height is 3.5 mm
The 561 guillotine cutting machine is designed for professional use. The automatic safety system helps to prevent anyone cutting themselves on the blade; really clean cuts can be made as a result of the ground top and bottom blades and the automatic paper clamp.
Dahle guillotine paper cutter 561, worktop 265 x 440 mm, cutting length 360 mm
Note
Dahle guillotine cutting machines should not be confused with professional bookbinding quality machines. They will satisfy most demands put upon them but are not designed for regular commercial use with a high demand for dimensional accuracy.