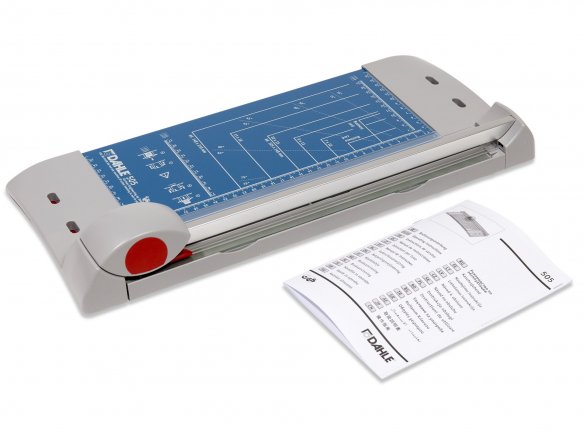 Four decorative cartridges for corrugation, bifurcation, perforation and hemming that can be clicked into place
Practical cassette storage in the machine
encased rotary round blade
plastic casing encloses blade and protects against injury
automatic clamp at the cutting point
two-angle layout with metric rulers
Simple blade cassette change
Worktop (w = 155 mm) is made of sheet steel with returned edges and metric sizing grid, ground steel round blade, bottom blade not ground, hand pressed, plastic backstop on both sides, maximum cutting height is 0.8 mm for the 507 and 0.6 for the 508
There are two kinds of possible cuts with the Dahle 505: a normal cut or an assortment of  specialty cuts. For the normal cut, the standard blade is lowered and locked as required. For specialty cuts there are various closed-blade cassettes that must be clipped into place. Both of these versions cannot be done at the same time.
The worktop of the rotary paper cutting machine consists of blue painted sheet steel that is mounted on both sides in plastic retaining fixtures. On these retaining fixtures a aluminium bar is attached which serves as the guide for sliding the round blade which, for safety purposes, is covered with a plastic cap. During the cutting action, the rotating rolling blade sharpens itself on the lower blade and presses the transparent clamping bar (when the automatic contact pressure feature is included) downwards.
The rotary cutting machine is primarily used to cut small numbers of paper sheets, film or paperboard. Alternatively, the Dahle GUILLOTINE PAPER CUTTERS can be used for cutting thicker cardboard and other materials to size.
In order to cut pieces with edges that are smaller than 6 centimeters we recommend that you check out our large assortment of CUTTERS, CUTTING MATS and CUTTING RULERS.
Dahle 505 rotary trimmer, cutting length 320 mm, incl. 5 blades
Note
The 505 model is only temporarily available in black or white. Replacement cutting heads are only available in the standard grey colour.