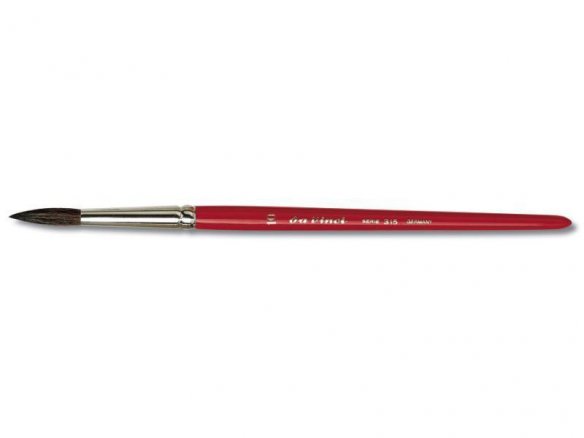 mixed squirrel hairs, nickel ferrule with soldered seam; short red-lacquered wooden handle, sizes 0-14, exposed hair length 8-31 mm, total length is 165 - 210 mm, protective cap, w = diameter of ferrule
The brush designed for classes in kindergartens and grammar schools is suitable for watercolour painting and other types of water-based paints. The fine hairs are able to take up and store especially large amounts of liquid which they then release slowly on the painting substrate.
Squirrel hairs come from the tails of Canadian and Russian (Siberian) squirrels - they are not as durable and elastic as red sable hairs but make up for that by being extremely absorbant. For this reason thex are often found in so-called "mops" whereby this feature is put to its best use. The highest quality squirrel hairs are the blue and Kazan versions.
Da Vinci school watercolour brush, round
11 Variants