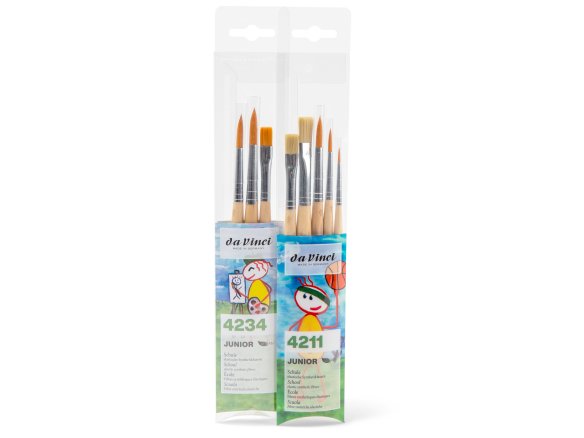 Allround paintbrush
Hobby + school
Does not roll away due to flattened shaft
Ferrule

aluminium, seamless

Handle

clear varnished hexagonal wooden handle

Fibres

synthetic

Sizes

set with various sizes
The Da Vinci Junior is the well-known synthetic brush series for painting in the pedagogical field (for students). The brush head consists of high-quality synthetic fibres with a fine, formed tip that holds its shape even when it has experienced heavy use. The brush can be used for both opaque paints as well as watercolour paints.
The hexagonal handle specially developed by Da Vinci has from 3 to 6 flat areas at its thickest point. They prevent it from rolling away but are also so subtlie in their construction that you hardly notice them when working with them; which is to say your hand will not get tired and you can stlll easily twist and shape the tip!
The set of 5 contains three Series 3 round brushes and two flat Series 129 bristle brushes.
The set of 3 contains two Series 303 round brushes and one flat Series 304 brush.
Da Vinci Junior synthetic school brush set
2 Variants
Accessories and Related Products