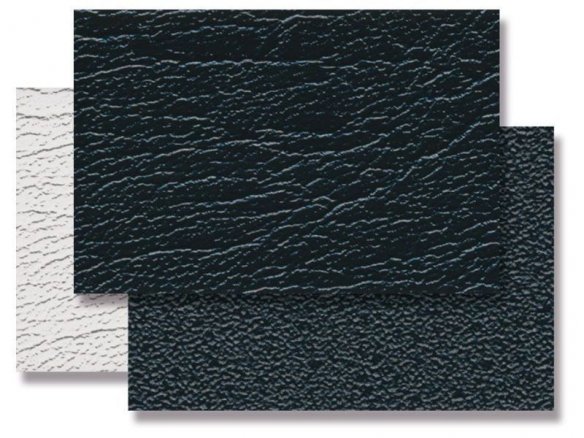 opaque, textured (each leather pattern recreated), monomer plasticized PVC, for material thickness see "Information", solvent-free dispersion adhesive, paper backing with centimetre grid, only the snakeskin pattern comes wrapped in a tube
The surface texture of each of these leather patterned adhesive films has been recreated in imitation of the real thing. This has the advantage that the printed pattern looks "more real" and the plastic film is not so readily recognized as being just that. This is somewhat different in the case of the leather patterned film "imitation leather" whose surface displays an evenly grained appearance that does not give the impression of real leather at all – nonetheless, this film has a high-quality appearance due to its simple elegance.
The excellent look of this imitation leather patterned adhesive film makes it suitable for non-typical uses like, for example, as a book cover.
These especially thick adhesive films are difficult to apply over sharp edges. The thicknesses of the various leather films are different for each motif:
cowhide th = app. 0.1 mm
imitation leather = app. 0.15 mm
snakeskin th = app. 0.2 mm
Generally speaking, these films can be applied without folds by means of wetting it beforehand like one does with X-FILM COLOURED ADHESIVE FILM. If the film is applied dry you can carefully pull it back up and reapply it as long as the initial adhesion hasn't been too strong. It doesn't reach its full adhesive force until after a few hours.
D-C-Fix adhesive film, leather pattern, w=900 mm, calf leather, black
4 Variants
Note
The minimum order for products sold from rolls: 0.5 running metre. Please note that no exchange is possible in the case of products cut from rolls.