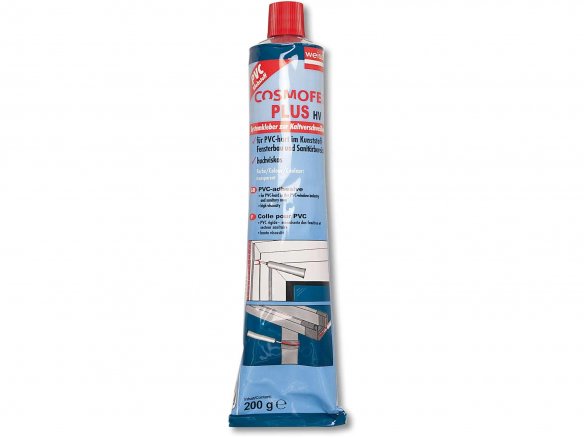 material

tetrahydrofuran-based diffusion adhesive (formerly: Forex or Foamex)
Description
Hazard warnings
Cosmofen Plus HV (formerly known as Forex PVC glue) is a special adhesive for cold welding PVC materials, especially integral rigid foam sheets (e.g. Vekaplan, Forex, etc.). It contains a solvent (THF) which solvates the PVC and this produces the welding action. Foam boards can be bonded over larger surfaces and at less cost as compared to other types of plastic adhesives with this special glue. Because Cosmofen Plus is particularly temperature resistant and has a high degree of resistance to UV radiation when exposed to the outdoors, it is very often found being used for making windows, in the sanitary engineering sector and trade fair constructions.
Danger, Tetrahydrofuran = 50 - 70 %, Aceton = 1 - 10 %, (VOC-Wert = 763,4 g/l, 77,13 %), Flam. Liq. 2, Eye Irrit. 2, STOT SE 3, Carc. 2
Hazard warnings
EUH019: May form explosive peroxides.
H225: Highly flammable liquid and vapour.
H319: Causes serious eye irritation.
H335: May cause respiratory irritation.
H351: Suspected of causing cancer .
Safety instructions
P201: Obtain special instructions before use.
P210: Keep away from heat, hot surfaces, sparks, open flames and other ignition sources. No smoking.
P261: Avoid breathing dust / fume / gas / mist / vapours / spray.
P280: Wear protective gloves / protective clothing / eye protection / face protection.
P303+P361+P353: IF ON SKIN (or hair): Take off immediately all contaminated clothing. Rinse skin with water [or shower].
P305+P351+P338: IF IN EYES: Rinse cautiously with water for several minutes. Remove contact lenses, if present and easy to do. Continue rinsing.
P308+P313: IF exposed or concerned: Get medical advice / attention.
Cosmofen Plus HV PVC glue, tube 200 g