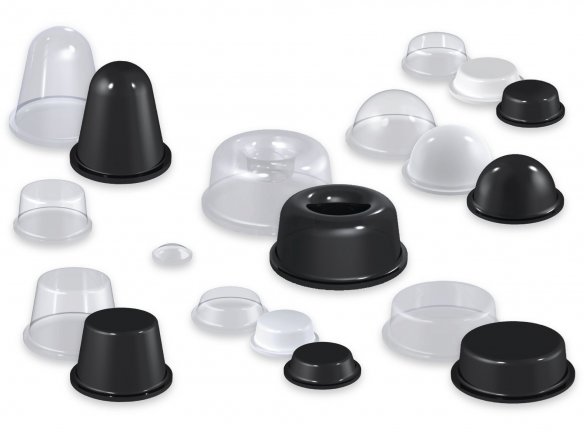 Adhesive surface

one side self-adhesive (transparent bumpers: acrylate, black bumpers: synthetic rubber)
Bumpers are used as feet for appliances, as distance pieces, as impact buffers or vibration dampeners, etc. They prevent machines from slipping and sliding (no scratching or grinding marks), muffle noises and protect, in their role as an impact buffer, against damage. The bumpers are made out of a permanently elastic, plasticizer-free, slip and abrasion-proof polyurethane elastomer and are supplied with a self-adhesive strip that makes for easy and efficient mounting.
By the way: In the event of using the Bumpers for applications involving the support of heavy plate glass, laboratory tests have shown, that shapes (with a plain contact surface) perform better than hemispherical.
Exemplary load tolerance information (only for these Bumpers available):
h = 5,0 mm, ø 11,1 mm: 5 kg/Bumper
h = 7,9 mm, ø 16,0 mm: 10 kg/Bumper
h = 7,5 mm, 20,5 x 20,5 mm: 24 kg/Bumper
h = 3,5 mm, ø 12,7 mm: 15 kg/Bumper
Bumper, self-adhesive spacer, round
36 Variants
6,40 mm
11,10 mm
12,70 mm
16,00 mm
16,50 mm
16,60 mm
20,00 mm
22,30 mm