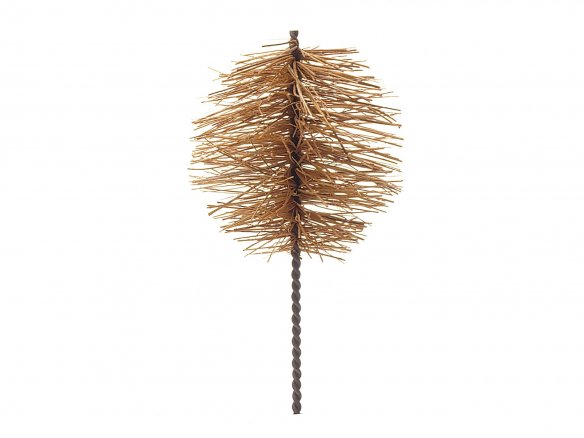 wound wire with coconut fibre bristles, trimmed, black stem
Bristle trees are made from wires into which dark brown coconut fibres are wound. The result is a cylindrical brush which can be cut into the shape of a tree.
It is difficult to imagine architectural models without trees because trees supply the models with a sense of scale. On the other hand, there is probably no other depictive component so capable of distorting that sense of scale: if the tree is too small or its crown has too small a diameter the adjacent building will appear much taller or more colossal than intended. One should always try - even in the case of very small scales - to use model trees with visible trunks as they will help create a sense of openness and transparency. As a frame of reference, the following table shows the usual height of some full grown trees:
| | |
| --- | --- |
| Spruce, pine, fir | 30 - 40 |
| Beech, elm | 30 - 40 |
| Oak, poplar (cottonwood) | 25 - 35 |
| Maple, lime, plane (sycamore) | 20 - 30 |
| Old fruit trees | 8 - 10 |
| Fruit tree plantation | 4 - 5 |
There are, however, other considerations. The type of material and its colour also influences the appearance of tree size. The heavier or more massive the material appears, the smaller should be the crown size chosen. One should also take into account the proportional relationship between the trunk and the crown. In larger scale models - say, bigger than 1:200 - "lighter" model trees should be used: lifelike trees (Foster Trees), Achillea (yarrow), Iceland lichen, steel wool, fine wire mesh, "plant foam" (polyurethane soft foam), etc. For smaller scale models, a more abstract representation can be accomplished by using balls or spheres made from cotton, sponge, cellular rubber, wood, needles, etc. (Some of this information comes from the book "ARCHITEKTUR-MODELLE" (in German))
If model trees are indeed to be used in your model, the following proportional relationships between the model tree crown sizes and the real tree crown sizes should be noted (see table).
Ø Tree Crown in Model [mm]

Ø Crown [m]

1:1000
1:500
1:200
1:100
1:50
5
5
10
25
50
100
10
10
20
50
100
200
15
15
30
75
150
300