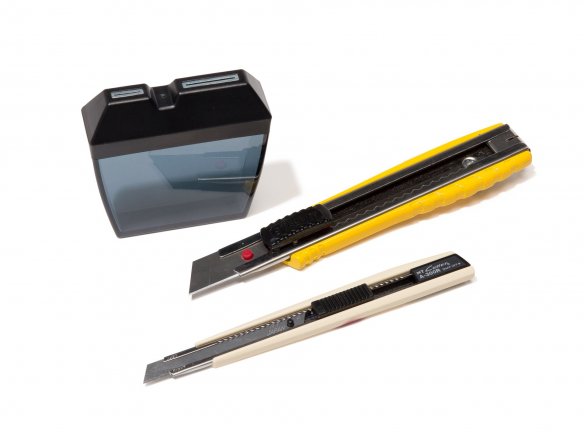 Finally! Precise and safe breaking of cutter blades
No more blade parts jumping away uncontrollably
Blade segments are caught in the container
For 9 and 18 mm snap-off blades
Winner of the Special German Design Award 2018
Container material

black/transparent plastic

Material of blade breaker opening

metal

Equipment

2 blade breaker openings for different blade sizes

Dimensions

80 x 25 x 80 mm
Its name is "Break it easy." And it's NOT a sharpener, even if it looks like one at first glance. The Blade Breaker is an extremely practical tool that comes with a collecting container for the safe, and above all, clean, breaking of 9 and 18 mm cutter blades. Frequent users of cutting knives with break-off blades will be pleased.
When inserted into one of the two break-off openings in the lid, the blade is guided at exactly the right angle so that you can break it exactly at the break line. Depending on how far you push the blade out of the cutter opening, you can cut one or more segments. This can be done with much less force than with the end piece of the cutter, which is what is usually used to break the blade.
The best thing about it: The loose blade segments do not jump away uncontrollably, but end up one floor below in the collection container. Nobody can injure themselves there, and when the box is full, a recyclable quantity of approx. 100 g of high-quality steel has accumulated.
Blade breaker for snap-off blades, for 9 and 18 mm blades, dark night blue