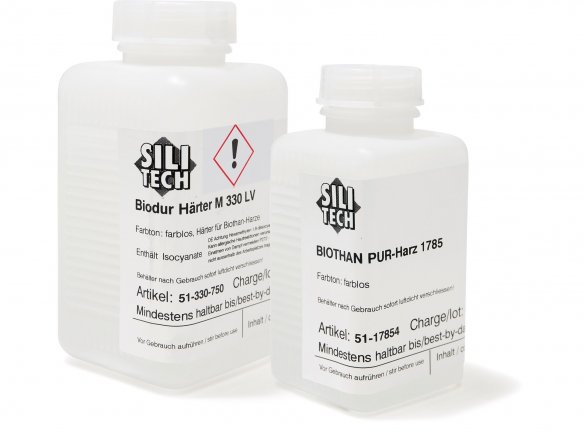 very low viscosity (easy to pour)
hard and scratch-resistant
low-odour
hardened material is colourless-transparent
toxicologically safe
non-hazardous
Material

two-component polyurethane casting resin

Colour

colourless transparent when cured

Shore hardness

soft (ca. Sh-A 40 - 70)

Mixing ratio

resin to hardener ca. 1.5-2.5 to 1

Working life

25 - 30 minutes

Demoulding time

120 minutes at 20°C

Temperature resistance

ca. 100°C

Shelf life

12 months in closed original container at 15 - 30°C
Description
Hazard warnings
The hard version of the 1785/330 is a colourless, highly transparent PUR casting resin that is based on natural and sustainable raw materials in combination with caprolactones and various additives, This casting resin was designed to produce crystal clear and hard prototype pieces with thicknesses up to 25 mm. The end material is UV stable, which means it resists yellowing. It is also non-toxic (safety label not required) and takes excellently to being dyed.
If the resin components have been stored for a long time they must be agitated - or better, shaken - before use. When stirring them, care must be taken not to cause bubbles to form in the material - unless the possibility of vacuum de-aeration exists. The low viscosity of the resin and hardener quickly produces a very pourable mixture. When making a mixture, it should be noted that the hardener should be measured out first and the resin then weighed accordingly and subsequently mixed into the hardener. If you want the cast piece to be coloured, your dye must be mixed into the resin component (up to 3% proportion by weight of the resin) because the hardener is the component containing the isocyanate, which reacts more sensitively to the addition of other substances.
In order to produce cast pieces that are free of bubbles, the resin should be de-aerated in a vacuum - especially if it is not being dyed. If no vacuum device is available, it is recommended that you at least use the pot life period to de-aerate the mixture. This will, however, not really produce a crystal clear, bubble-free result - but will get somewhat closer to that anyway! After demoulding, the cast piece should be tempered at 80 °C for between 2 and 8 hours. Once cured, the resin is scratch resistant and lends itself to being machined , sanded and polished.
Danger, Hexamethylen-1, 6-diisocyanat-Oligomere = 50 - 100 %, Hexamethylendiisocyanat = < 0.5 %, (VOC-Gehalt = 0,0 %), Skin Sens. 1
Hazard warnings
H317: May cause an allergic skin reaction.
Safety instructions
P261: Avoid breathing dust / fume / gas / mist / vapours / spray.
P272: Contaminated work clothing should not be allowed out of the workplace.
P280: Wear protective gloves / protective clothing / eye protection / face protection.
Downloads
Biothan/Biodur 1785/330 casting resin, hard
2 Variants
Accessories and Related Products