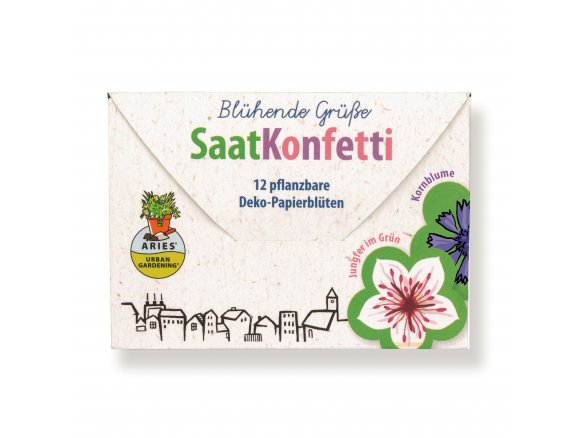 Flowery greetings
1 x envelope á 12 flowers
approx. 9.5 x 7 cm
bee-friendly seed
from controlled, organic cultivation
The paper flowers made of natural paper contain an organic seed mixture of green and loop flower. Printed with biodegradable ecological ink. The pretty confetti flowers can be used as table decorations, for example, or enclosed in Easter and birthday mail and later simply planted.
The bees are happy about the flower nectar.
If you don't have a garden yourself, you can already make a small contribution with bee-friendly flowers on your balcony, or get active and make the whole city his garden.
All fertilizers and plant strengtheners for healthy plants in house and garden come from regional production in Lower Saxony.
The seed products contain seeds that are seed-solid and primarily bee-friendly, naturally from controlled organic cultivation.
Organic "blooming greetings" seed confetti set, 12 plantable decorative flowers, kbA, bee-friendly