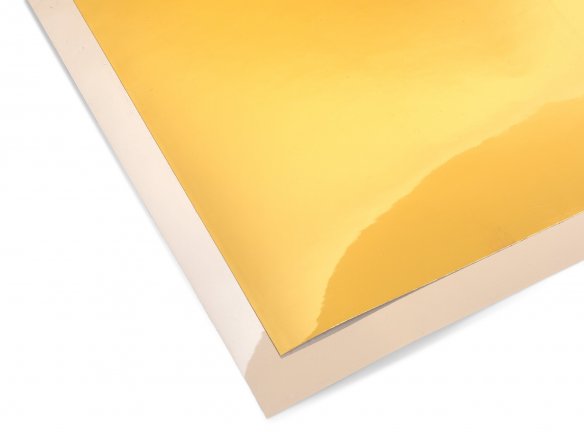 metallised polyester film, the side with the glue is also gold or, alternatively, silver and reflective, th = 0.05 mm, solvent-free acrylate glue (adhesive strength ≥ 4N), silicone paper release liner, inner diameter of the roll tube is 76 mm
What sets this self-adhesive mirror film apart is that both sides – including the side with the glue – have both the high gloss mirror effect and the same colour. This is very rarely the case with other types of metallic or mirror adhesive films. And so it is that it is especially good for making mirror image type lettering on the inside of a display window or other transparent surfaces. In order to achieve an even colour, each individual part of any lettering or symbol should be cut and glued in the same direction.
The film is not permeable to vapours so it should not be applied wet, otherwise bubbles could arise. The temperature should be at least 15 °C for any gluing work and its maximum adhesive strength will be reached after about one week. When applied vertically in a normal middle European climate, the film will hold up for up to 2 years but it should be noted that extreme weather conditions can certainly shorten its service life. The film should not be glued to gas-releasing surfaces like, for example, non-annealed acrylic glass.
For the best results, we recommend you use transfer film and a plastic squeegee-type applicator with rubber lip.
Because of the carefully matched materials used in its construction, the film is great for computer-controlled production of labels, signs, logos, etc.
Aslan mirror adh. film CA23, both sides reflective
4 Variants
Note
The minimum order for products sold from rolls: 0.5 running metre. Please note that no exchange is possible in the case of products cut from rolls.