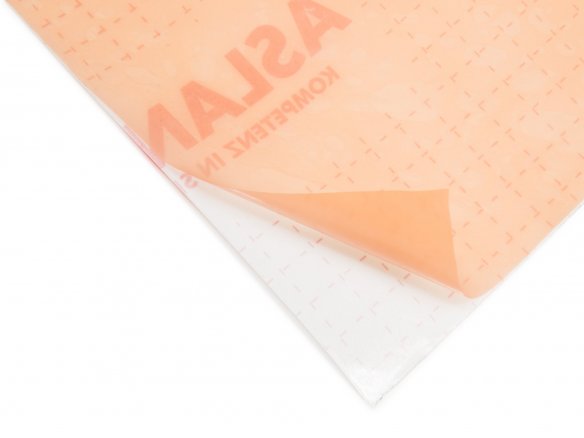 transparent, colourless, acid-free, calendered monomeric plasticised PVC, th = 0.07 mm, solvent-free, ph neutral acrylate adhesive, one side with permanent adhesive, one side removable, both sides lined with silicone paper and orange LDPE film, inner ø of the roll tube is 50 mm (for 50 m roll it is 76 mm)
The two sides of the double-sided adhesive film DK4 from the Aslan company have differing adhesive strengths. The side with the silicone release liner has an adhesive with delayed initial stickiness and therefore makes adjustments possible when applying it. The side with the orange coloured release liner has a special adhesive which, even after an extended period of time, allows the film to be easily removed from all smooth surfaces.
In addition to its customary uses (removable applications or creating self-adhesive placards, maps, blueprints, drawings, advertisements, etc.) this film, because of the removable adhesive on its one side, is also good for use in affixing materials to milling tables.
The initial stickiness of the side with the paper release liner is about 2.5 N, but after a week it rises to about 4 N. The initial stickiness of the side with the film release liner is about 1.5 N, but likewise rises after a week to about 4 N. Despite the fact that after a week the adhesive strengths are the same, the side with the film release liner is still easier to remove.
When working with this product, the temperature should be at least 15 °C. Once the adhesive has set, this film is temperature resistant from -30 °C to +80 °C.
Aslan double-sided adhesive film DK 3
6 Variants
Note
Please note that no exchange is possible in the case of products cut from rolls and the minimum order for products sold from rolls is 0.5 running metre.