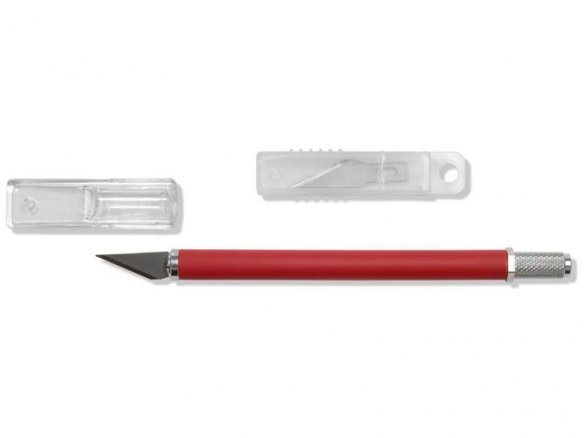 round plastic barrel with roll preventer (hexagon ring on barrel end), light-alloy internal mechanism, ribbed light-alloy locking piece, includes protective cap and one replacement blade in a plastic container
This red art knife is lightweight and sits very nicely in your hand but it even has a further advantage: it will not roll off the table during use because it has a silver-coloured hexagon ring at the end of the plastic barrel.
There is another interesting feature, especially for anyone who has experienced a blade coming loose while working with a normal round art knife: that is guaranteed not to happen when using this version because the locking piece is at the end of the knife and not at the gripping area where it is usually found. This design change assures that the blade will not come loose while working with it (no twisting movement can reach the locking mechanism!)
It can also be used with any standard blade.
Art knife with roll preventer, incl. 2 blades No. 72