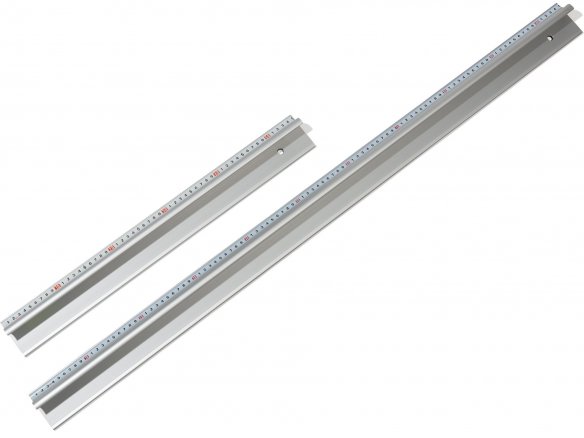 metric graduation
silver anodized surface
finger guard
integrated steel edge
ribbed contact surface
anti-slip coating
with hole for hanging up
Safety cutting ruler - protects fingers and hands. Its construction makes this ruler very stable; it comes with practical features and a good feel in your hand. The incorporated metric scale makes it possible to measure and cut at the same time.
The finger guard protects your fingers and hands even when cutting materials that are hard to cut or when you are in a hurry and unconcentrated. The ruler has a coating that hinders any markings on, and prevents the formation of dark areas on paper, cardboard or your hands. The underside of the ruler is supple and soft (anti-slip coating) and provides a solid hold on glass, metal, plastic, cloth, cardboards and other smooth surfaces. A further advantageous feature is the additional 5 cm of the ruler´s length (instead of 50 cm > 55 cm, instead of 100 cm > 105 cm). The steel edge of this robust aluminium ruler will guide a cutter, a rotary cutter or a glass cutter equally well, i.e. frictionless! A secure grip is provided by the grooved pressing area where the hand lies. Once your work is done you can then hang the ruler by its hanging hole and thereby save space.