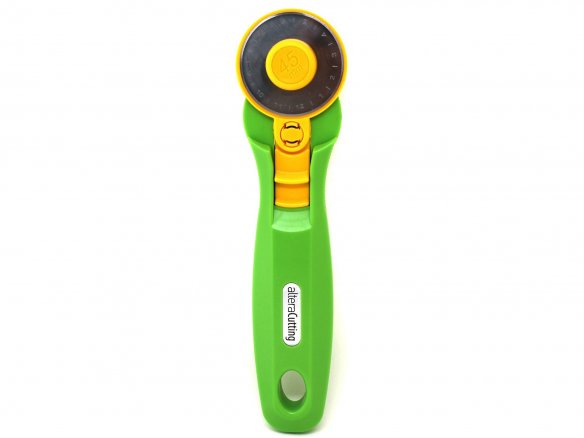 Perfect for fabric, latex, leather
Flexible blade protection
Large blade diameter
Three additional cutting pattern blades can be used
Material Handle

plastic

Material Blade

alloyed steel

Total length

190 mm

Blade diameter

45 mm

Cuttable material thickness

max. 0.7 mm
Your advantage when cutting with a rotary cutter? Flexible materials such as fabric, leather, latex, but also thin (Japan) paper, which are usually slightly distorted or torn when cutting, can be cut very cleanly, because the rotary blade pulls less material than a fixed blade from a normal cutter. But also plastic films or photo carton can be cut effortlessly.
You can ride straight cuts along the cutting ruler, but you can also cut curves free-hand. By the way, this goes forward and backwards, so you can work away from the body or towards the body.
The special feature of the Altera Rotary Cutter is its flexible blade protection: If you have pushed away the protection for cutting, it adapts itself automatically to the cutting angle during the cutting by the contact pressure of your hand. That means it does not disturb your view when cutting - no matter if you work with the right or left hand.
Modulor tip: When cutting with the rotary cutter, be sure to use a good cutting mat to keep the high quality blade sharp for a long time. If you need to replace the wheel once, we have replacement: Altera replacement blade for roller cutter normal cut, ø 45 mm. Or try our blades in special shapes: skipping/perforation, wave or pinking.
Altera rotary cutter for left and righthanders, ø 45 mm, incl. 1 straight blade